At Salon 55, we strive to deliver optimum skin health to all our customers; the first and most important step towards achieving this result is fully understanding your skin with the help of a professional beauty therapist.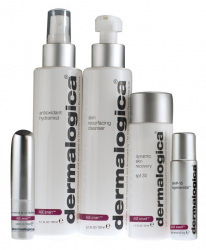 Equipped with Dermalogica's unique Face Mapping® skin analysis method and a wealth of skin knowledge, your professional beauty therapist will decode your skin, zone by zone, and prescribe you with a tailored, results-driven routine. To supplement and further-enhance the results of your at-home routine, a monthly skin treatment with a professional skin therapist is highly recommended.
The Skin Treatment is not a facial; it is predominantly concerned with treating the client's individual skin concerns. The treatment is completely customisable to the individual client for maximum results.
* – Deep cleanse, customised masque and moisture to suit your skin type
** – Tailor made for your skin. Regeneration, Medicated, Anti-Ageing, Environmental Control
Prices given during consultation, a deposit will be required to confirm appointment.